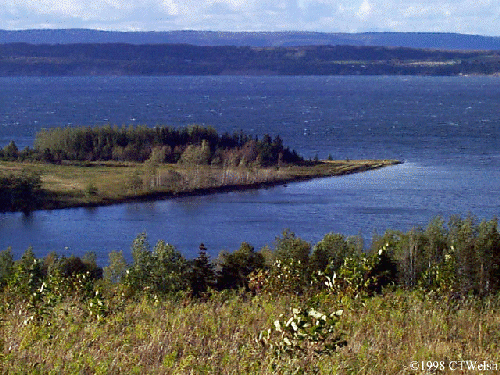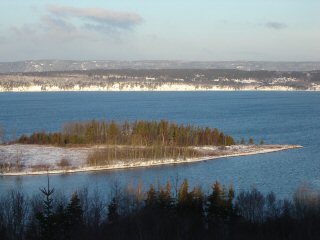 Click Picture above for Latest News!
We are located in the scenic community of George's River. Our Highland View Organic Farm and Cottages overlooks thebeautiful Bras D'or lakes. Perched 100 feet above sea-level, you can see the Kelly's Mountain lookoff and the Cape BretonHighlands Mountain range stretching off to the North. Directly across the river to the North is Grove's Point. To the West is George's River Mountain.
Your hosts, Cyril and Lauretta Welsh and family take pride in offering a peaceful, serene and friendly visit. Our guests can rest quietly or take part in on-site workshops in organic farming techniques, beekeeping and traditions of the Mik'maw medicine path. Hikers and birders will have the opportunity to observe nature and the majestic flight of our respected bald eagles, 'the Messengers of the Creator', who nest and feed in the area.
Saltwater beaches, golf and horseback riding are found only minutes away. We are just 10 minutes from the town of North Sydneyand the Marine Atlantic Ferry Terminal to Newfoundland, and only 6 minutes from the Trans Canada highway. We are about 30 minutes drive from the dowtown sector of the City of Sydney.
We want you to experience the Cape Breton recommended by National Geographic.
These webpages were authored by CTWelshJr.
If you would like to visit my personal page and learn more about the farm and my interests, click my photo below: